Israel's anti-terror operation in Jenin
The IDF has been conducting operations in the Jenin refugee camp to uncover bomb-making laboratories and arrest terrorism suspects. The incursion was prompted by increased Palestinian terrorism in the region, and the IDF is still searching for remaining terrorists. Israeli Prime Minister Benjamin Netanyahu praised the operation and stated that there would be more operations against terrorism in Jenin.
Israel's latest operation to root out terrorists was launched six months after 25 Israeli civilians were murdered in the region. The Palestinian city, Jenin, is now an Iran-bankrolled terror base. Among their discoveries, IDF soldiers found basement tunnels in mosques packed with sophisticated weapons.
IDF spokesman Lt. Col. Richard Hecht expressed another of Israel's exemplary principles, declaring,
True to form, much of mainstream media downplayed the IDF's outstanding accomplishment in its recent Operation Home and Garden in the terrorist stronghold of Jenin. During this 48-hour operation in Israel's biblical heartland, no Palestinian Arab civilians were killed—only terrorists. In a crowded urban setting where terrorist cowards habitually hide behind civilians, IDF's success is close to a miracle.
One of the most glaring examples of slander occurred on July 4, when a BBC news anchor interviewed former Israeli Prime Minister Naftali Bennett. She made this contemptible accusation: "Israeli forces are happy to kill children."
The BBC, considered the top tier of journalism for western media, was forced into a lacklustre apology. One of the guiding principles of Israel's military is to avoid civilian casualties at all costs.
Threat of rocket attacks on Israel from West Bank
Israel faces a growing danger from terrorist groups in the West Bank, like the ones raided in Jenin. Hamas' Falastin newspaper claims that the development of the ability to manufacture rockets in Judea and Samaria and fire them towards Israeli towns changes the equation of power in the conflict between Israel and the Palestinian Authority.
Ahmad Abu Zouhari claims that the development of the rockets is a most important development, which shows the abilities of the "Palestinian resistance organizations" to overcome security challenges, achieve sources of funding for this project, acquire the required military knowledge, copy the method of action used in Gaza in the field of rockets, and create a strategy of appropriate conflict against the "occupation."
According to him, by means of the rocket launches, the terror organizations are showing that Israeli attempts to eliminate "Palestinian resistance" did not succeed, since they have created a new reality which is more dangerous to Israel with their ability to acquire new weapons.
Abu Zouhari also added that Judea and Samaria is not going to be safer for "the occupation, its soldiers, and its settlers," since, "the nightmare of Gaza and its rockets will chase the occupation in every place." He added that, "The rockets are the beginning of the end of the Zionist entity," adding that the launch of rockets will not cease, and relying on security coordination will not provide security to Israel and will not bring about a limitation of the military powers of the Palestinian resistance organizations.
Israel will do everything it can to prevent Hamas and Iranian backed terror groups gaining a foothold to use the West Bank as a launching pad for rocket attacks on Israeli towns as has happened in Gaza.
This could lead to a lengthy struggle which will set back any possibility of a peace agreement in the region.
"Why Do the Nations Rage?" Asks Israeli Lawmaker
The Biden Administration just had to take the time to express how "deeply troubled" it is by a few more Jewish houses being built. The remark was made by US State Department Spokesman Matthew Miller in response to Israel's approval of 5,700 new housing units in existing Jewish towns in Judea and Samaria. This kind of "natural growth" was supposed to be covered by the "Oslo Accords," but Miller nevertheless called it an "impediment" to peace.
Jewish homes, on historically Jewish lands. That's what the White House is raising the alarm over. The words of the Psalmist (2:1) never rang so true:
'Why do the nations rage and the peoples plot in vain?'

Psalm 2:1
Member of Knesset Amit Halevi (Likud) had the perfect, biblical response to Miller and all those so "deeply troubled."
If the nations want to be outraged, Halevi noted that there are plenty of good reasons:
Iran's quest to destroy Israel and dominate the Middle East;
Rising antisemitism against Jews in New York and London (among other places);
Rampant anti-Israel incitement in Palestinian schoolbooks (teaching kids to hate).
Land bridge from Israel to the Gulf proposed
A proposal to create a land bridge connecting the United Arab Emirates to Israel through Saudi Arabia and Jordan to facilitate the movement of goods is being advanced.
The U.S.-backed "Land Connectivity by Trucks" project would enable trucks to transport cargo between the Gulf of Dubai and Israel's Haifa Port while significantly cutting costs and time, even before the normalization of relations with Riyadh, according to a report in YNET.
The land corridor, which would later expand to Bahrain and Oman, is initially intended for cargo. In the future, it would serve passengers, including tourists. Currently, trucks leaving the UAE reach Haifa Post via the Allenby Bridge from Jordan, but they face bureaucratic procedures, including required driver changes, paperwork and lengthy wait times. Another option for shipping goods is by ship through the Suez Canal and then to European ports, which is also costly.
The current proposal would reduce the time of the journey from several weeks to two or three days, saving up to 20% in shipping costs, according to a study conducted by Israel's Foreign Ministry and the U.S. government cited in the report.
The project is the latest tangible result of the 2020 Abraham Accords, which saw Israel make peace with four Arab countries, led by the United Arab Emirates and Bahrain. The proposal comes amid a separate long-term plan to create a rail link between Israel and the Gulf states through Saudi Arabia that would be part of a train project linking Israel, the Gulf, Europe and points East.
JNS.org – Jewish News Syndicate
Anti-Christian attacks 'a true disgrace'
Israeli President Isaac Herzog condemned growing attacks on Christians among extremist fringes of Israeli society, especially in Jerusalem.
During a speech at a memorial ceremony for Theodor Herzl, the president called the more recent phenomenon "a true disgrace" for Israel's culturally and religiously diverse society.
"The State of Israel is committed to putting an end to this phenomenon," Herzog affirmed.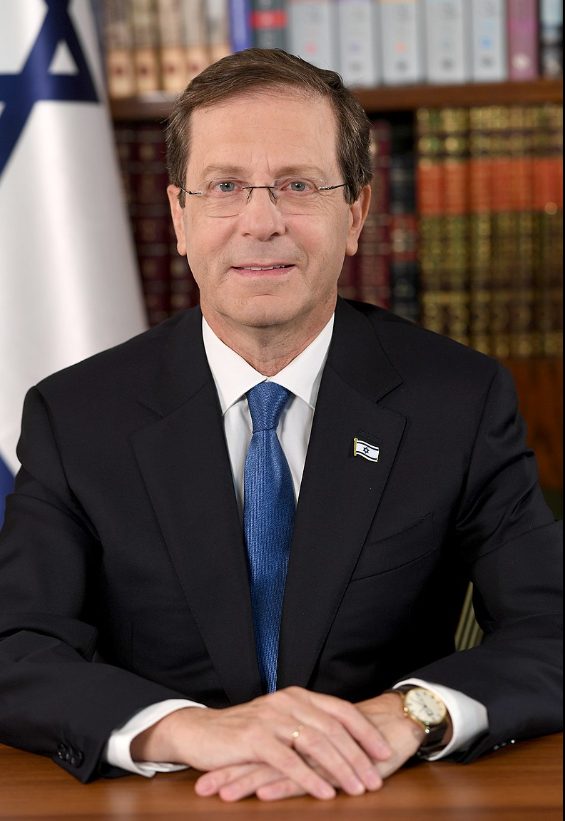 In June, Jewish activists harassed attendees on their way to a Messianic Jewish concert in Jerusalem. The protests deteriorated into riots, which required police intervention. Bentzi Gopstein, the founder of the far-right religious Jewish organization Lehava, justified the violent protests.
However, organizers of the worship event denied there was any evangelistic aspect to the evening.
Christian Zionists have played an important role in supporting the re-establishment of the first Jewish state established in 2,000 years. In addition, Israel is one of very few Middle Eastern countries with a stable and growing Christian minority.
The Arab Israeli influencer
Nuseir Yassin, a popular Arab-Israeli influencer born in Nazareth, with 65 million social media followers, spoke at a Jewish Leadership Council event in London, sharing his optimistic perspective on the future of his homeland.
Yassin, who refers to himself as a "Palestinian-Israeli," discussed his experiences growing up in northern Israel and his interactions with Jews while studying in the United States.
He gained fame through his one-minute daily videos on social media and has used his platform to bridge gaps between different communities. Yassin acknowledges the challenges he faces, particularly from Arabs who question his loyalty, but remains hopeful for positive change in the region.
His videos make a call for peace and reconciliation in the Palestinian-Israeli conflict. See NAS daily 'My Israel and Palestine, Explained.' https://www.youtube.com/watch?v=oNW2p0nTEto