War with Iran coming?
War with Iran is increasingly probable, and therefore Jerusalem needs to prepare to attack the Islamic Republic even without U.S. support, Yaakov Amidror the former head of Israel's National Security Council warned on 13 April.
Escalating terrorist and rocket attacks against Israel during Passover are only the first stages in the war of attrition being waged by the "Axis of Resistance" led by Iran. The current round of fighting is the first stage in Iran's phased plan to destroy Israel.
The Axis of Resistance estimates that Israel's judicial reform debate and its recent crises in relation with the United States have weakened the Jewish state. They believe that the Israel Defence Forces cannot fight simultaneously on several fronts while dealing with tens of thousands of rockets, precision missiles and drones launched across several borders, accompanied by a wave of terror in the West Bank. (Jewish News Syndicate 13/04/23)
The Ayatollahs have struck a long term defence pact with China and are readily providing Russia with attack drones. This development essentially means that Iran is protected by these powers.
2016
2020
2023
Iran has also made an agreement with Saudi Arabia, mediated by China, breaking the hope of Israel's PM Netanyahu that he could bring the Saudis into the Abraham Accords agreement with Israel.
An email has been circulating based on information supplied by Dr Mordechai Kedar, a well known commentator on Israel's security situation. I quote from some extracts of this.
We pray that God will prevent this scenario from coming into being. With the threat of war increasing in other fields – China – Taiwan, North Korea, and the ongoing and increasingly dangerous situation in Ukraine, it is clear that the world and Israel are in a perilous state, which only the coming of the Lord can save us from.
Readers of this column will no doubt be familiar with the prophecy of Ezekiel 38-39, when God will intervene to save Israel in a time of conflict involving an enemy coming down from the north.
Recently Syrian President Assad called Vladimir Putin with a request to send more Russian troops into Syria. Turkish President Erdogan spoke to Iran's President Raisi calling for unity against Israel following the incident at the Al Aqsa mosque that sparked the current state of unrest and terror attacks against Israel.
Jeremiah's prayer for Israel is very relevant: '
O Lord, though our iniquities testify against us, do it for Your name's sake; For our backslidings are many, we have sinned against You. O the Hope of Israel, his Saviour in time of trouble, why should You be like a stranger in the land, and like a traveller who turns aside to tarry for a night? Why should You be like a man astonished, like a mighty one who cannot save? Yet You, O Lord, are in our midst, and we are called by Your name; Do not leave us!'

Jeremiah 14.8-9
Judicial reforms and divided Israel
Israel's President Isaac Herzog in an interview published on 12th April expressed optimism that a compromise on judicial reform was possible. Since Israeli Prime Minister Benjamin Netanyahu on March 27 announced a pause in the legislative process until the Knesset's summer session starts on April 30, Herzog has been holding a series of meetings at his Jerusalem residence with the ruling coalition and the opposition in an attempt to hammer out an agreement.
The first meeting convened on March 28, with coalition, Yesh Atid and National Unity representatives also present at the opening discussion, which lasted 90 minutes and was closed to the press, as are all of the meetings. Even if a compromise is not reached, coalition members appear determined to see the proposed legislation through when the parliamentary summer session starts.
Opposition to the reforms continues to divide Israel, with demonstrations taking place against the Netanyahu government. Supporters of the reforms accuse the opposition of undermining the security of the nation and dividing Israel from Jewish communities in the diaspora, at a time when Israel is under attack from outside.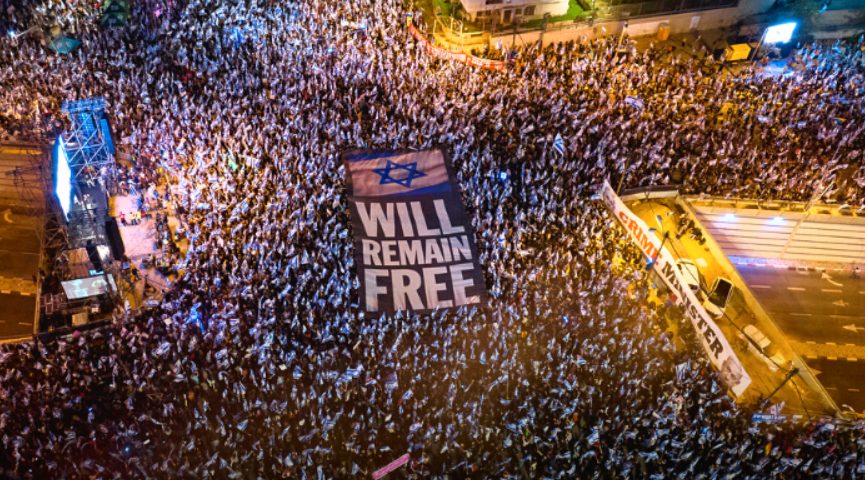 Am Echad, a U.S. group associated with the Orthodox Agudath Israel of America, sent an open letter to Israeli opposition leader and Yesh Atid Party chairman Yair Lapid on April 11 expressing their "grave concern" over comments he made at a recent Jewish Federation meeting in New York. They saw the